Partnership Rings.
Archaeological discoveries dating back more than three millennia indicate that, in ancient cultures, couples exchanged rings braided from reeds and other plant materials. From ancient tomb paintings these rings seem to have been worn on the third finger of the left hand; a forerunner of modern western tradition. However, in ancient Roman times, wedding bands seemed to serve mainly as a symbol of ownership of a woman. These rings were made of various metals; gold and probably copper or iron.
Partnership Rings.
Since Gay Pride, the gender fluid revolution and major changes in the law, a demand for new symbols of identity in relationship has arisen. Some of these images here, are of wedding rings or partnership rings that have evolved in response to the uniqueness of a couple's relationship. They have been commissioned and designed in conversation with the couple.
---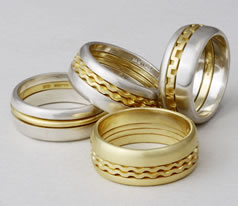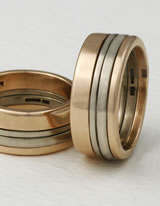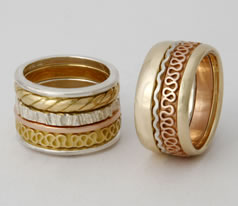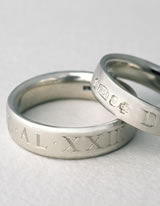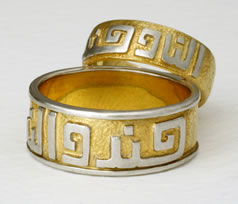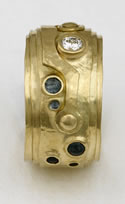 Rings to celebrate a relationship and something a bit different for a Partnership Ring.
Things have now come full circle from ancient cultures and Christian concepts of weddings rings. Partnership rings have now become expressions of individual taste and lifestyle as well as the symbol of love, loyalty and fidelity. The selection of rings on this page including the ones below are a small selection of the possibilities. However, in conjunction with you as a couple I would would be pleased to explore other design possibilities for a commission based on your suggestions.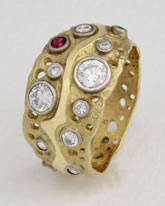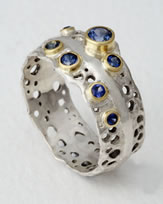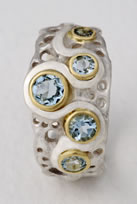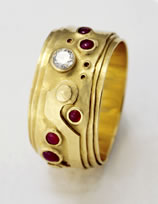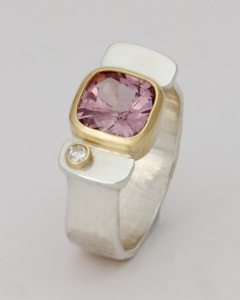 End of this selection.