Specially commissioned items.
These are based, either on a customers brief or a variation to one of my existing designs. Often a person searching for an item of jewellery, might have seen one of my rings or a necklace in an advertisement or at an exhibition and would like something similar. They may want different coloured gold or a particular selection of stones, sometimes might want to include stones of their own from a legacy item of jewellery. These, if in a good condition can be used in a new design. When commissioning one of my pieces all these options can be considered. Many of the items below tell their own story.
---
A necklace commissioned by Sharon, with enlarged central feature.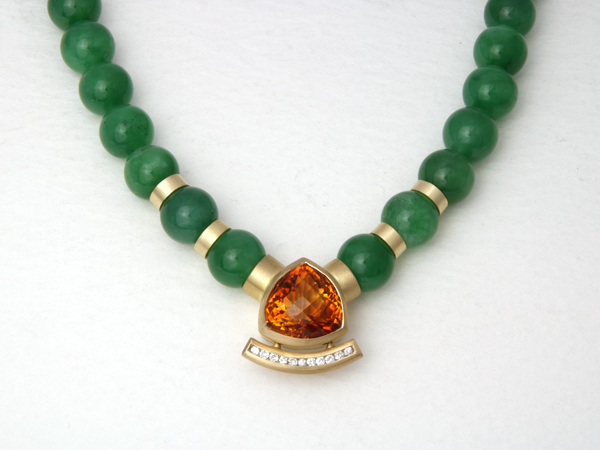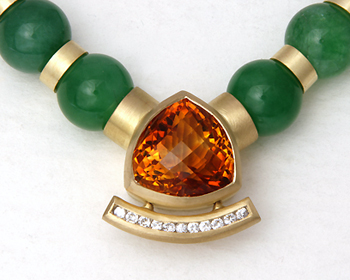 A special necklace designed and made for Georgina.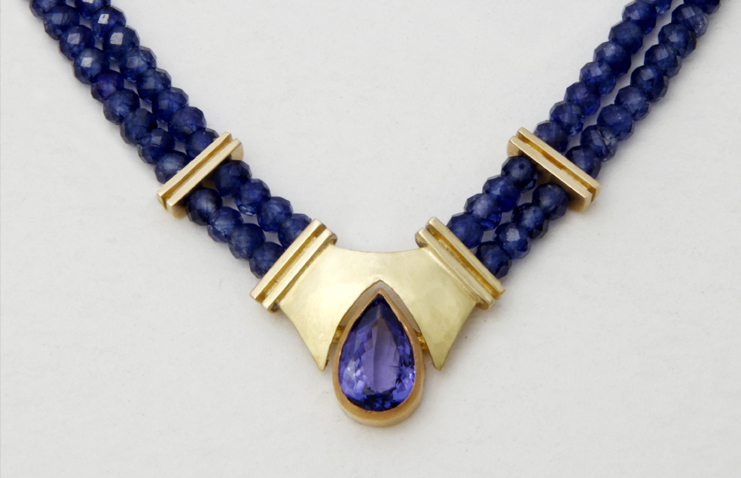 A Necklace commission by Ann.
This is a necklace to commemorate the loss of a beloved husband.
A celebration of their life together with a secret message engraved on the back of the pearl.
Ann and her husband had been treasured customers of mine for a number of years. Sadly, unbeknown to me, Ann's Husband passed away. About a year later Ann visited my workshop with her late husband's wedding ring and asked me to incorporate it into a piece of Jewellery for her. I came up with this proposal for a commemorative necklace.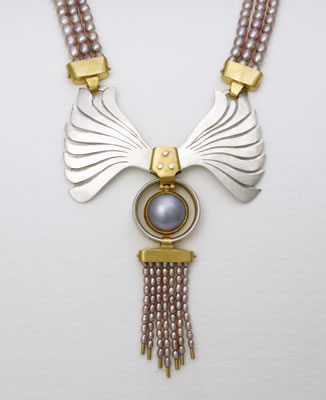 Necklace commissioned by Sarah.
This necklace was commissioned by a client who loves large necklaces. She wore this piece on her wedding day. The central motif is of a cherub riding a mythical sea horse. It was taken from an antique brooch, which was uninteresting and did not do justice to the carved central coral motif which is delightful.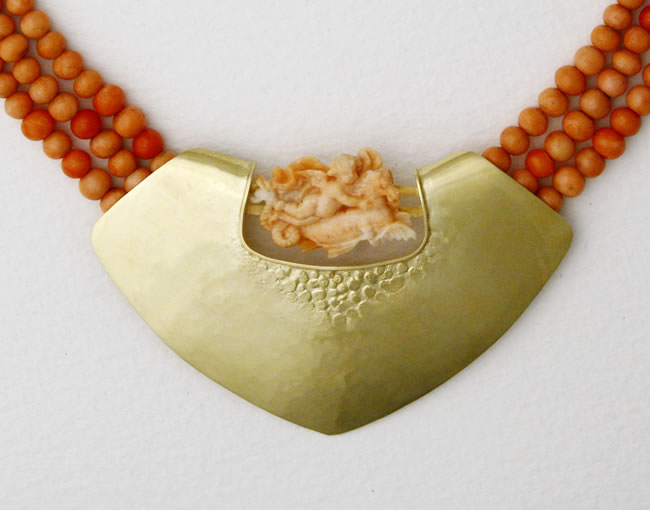 Two special gifts for Jean.
This silver and 22K gold necklace was commissioned as special present for Jean. It involved a lot of discussions to determine a brief for the project but we finally arrived at a design which we all thought would work. It was dependant on incorporating a number of natural blue Zircons originally from Cambodia; from a legacy collection.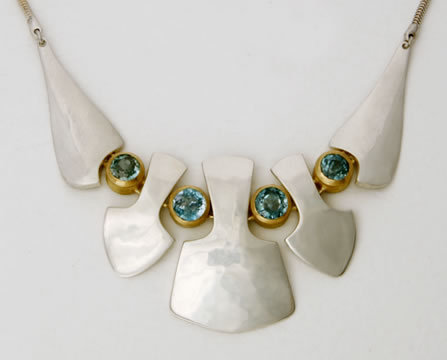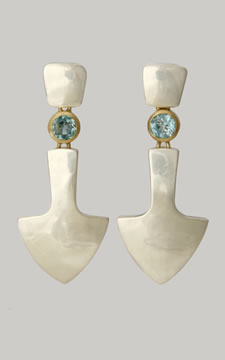 The Big Silver Fish Commission
This large silver articulated fish necklace based on a Rainbow Trout. It is difficult to get an idea of the scale without seeing it being worn but is was approximately 22cm long made in segments of silver. Each segment was linked to the next allowing the item to flex like a real fish. Gold dots in 22K gold represented the fishes lateral line with a diamond in a small gold setting for the eye. The silver bubbles from the fish's mouth was a detail to distract from the from the chain and clasp.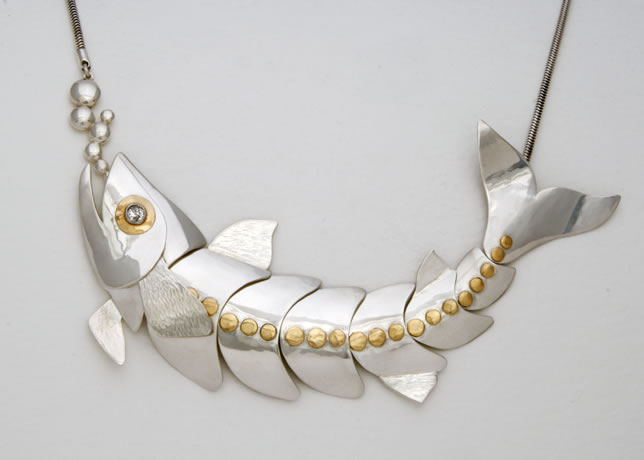 Big Silver Necklace for Jean
This large silver necklace was a commissioned Christmas present for Jean. The Copal beads were from a legacy necklace. Jean wanted something dramatic so the size of the beads somewhat determined the the size of the large silver components. These were pierced from silver sheet and planished to give them a convex form but also the create a pleasing texture to the surface.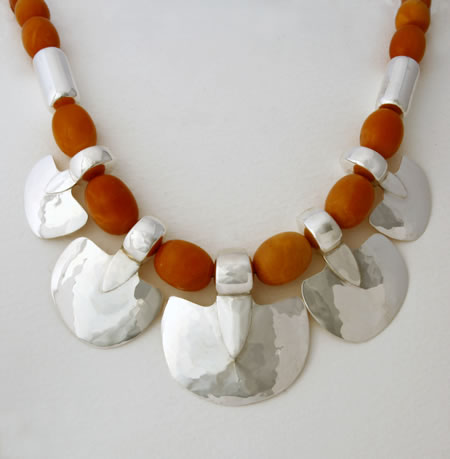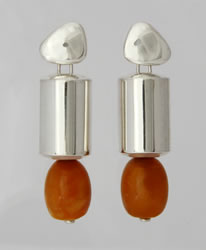 Big Silver and Turquoise Necklace for Jane.
This large silver necklace was a spontaneous purchase by Jane and her husband at the 2014 Goldsmiths' Fair. It was a large necklace but suited Jane's ebullient nature. It looked striking and dramatic. The large central form was hand raised in two halves and had to match the scale of the large wafers of Turquoise. The citrine stone was chosen to contrast with the colour of the Turquoise but also complement the colour of the speckles in it.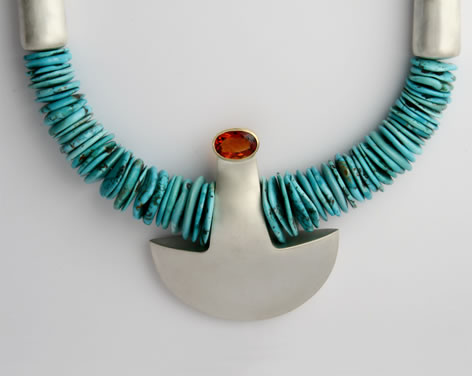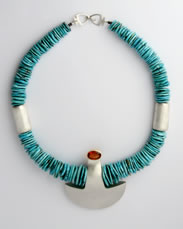 A big Silver and Turquoise Necklace commissione by Pauline.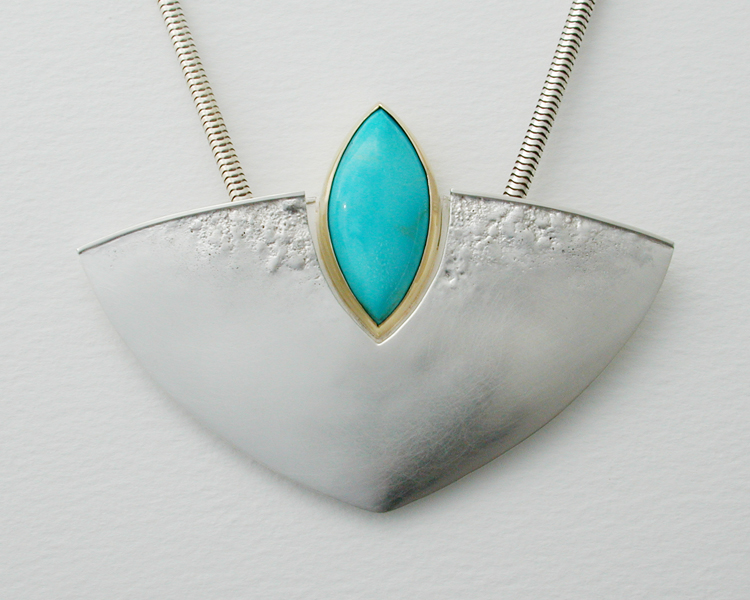 Pauline's Turquoise Necklace, the reverse side showing the planished gold backing plate and the lasered hallmark.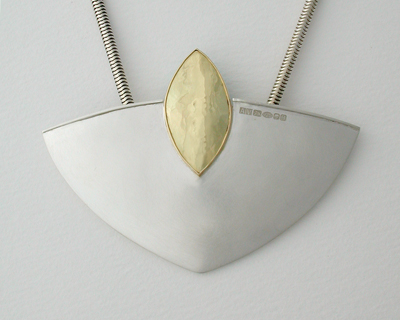 End of this selection.